Horizon Elliptical Trainer Review
Are They Right For You?
Horizon ellipticals are a discount brand of crosstrainer from Johnson Health Tech.





Johnson is one of the largest fitness equipment makers in North America, who also manufacture fitness brands like Vision, Matrix and Livestrong.





Horizon is one of their discount brands and with prices starting around $600 and up, this makes them very popular.

Are they right for you? Here's an overview of the pros and cons to help you decide.

Strengths of Horizon Ellipticals:
Six Star Certified for Better Comfort

Like their higher end Livestrong brand, many of their crosstrainers are 6-Star certified. This is a certification that basically means the trainers are built to certain ergonomic standards.

For example, foot pedals are placed closer together for less stress on the hips. Step-on heights are lower the user is placed more upright on the machine - which feels more comfortable for many people.
Many models also have pivoting foot pedals which support your ankle and heel through the entire ellitpical motion. This helps to reduce stress and toe numbness that you often get with cheaper, fixed-pedal crosstrainers.

While this is a fairly common feature to find, it's still one many people love and it's nice to find it on machines at this price point. You can plug in your iPod or mp3 player to the console and listen to your favorite tunes while you workout.

Weaknesses of Horizon Elliptical Trainers:
Many of the Horizon elliptical models have consoles that are not backlit. This can make it pretty hard to read your workout stats, especially if lighting is not the best in your home gym.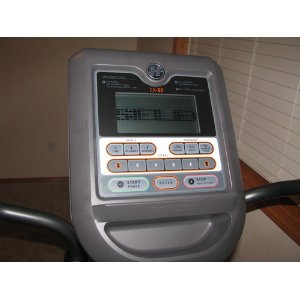 While the price is excellent on these trainers, it also means you're not getting health club quality. Consoles are simple and many Horizon buyers were put off by the cheap plastic parts on these machines.

Also, while they are decent the flywheels on these ellipticals aren't as heavy as the ones you get with Johnson's Livestrong brand - so they don't give you as smooth a ride.

Editor's Conclusion:
Horizon crosstrainers are a popular starter brand of elliptical produced by a heavyweight in the fitness industry.

While the prices are excellent and great for budget buyers, there are a few drawbacks with these crosstrainers to keep in mind when shopping.

If you do decide to get a Horizon elliptical, you can find a few newer models at great discount prices online here. For other starter brands to compare against see the Proform, Livestrong and Nordic Track brands.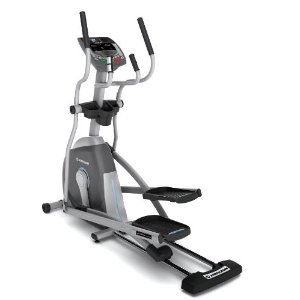 ---
Back To Elliptical Brand Reviews

Share Your Own Horizon Elliptical Review:
Do you have a review or tip about your Horizon elliptical? Leave it below!