Yowza Elliptical Reviews
Are They Right For You?
Yowza elliptical trainers are not as well known as other brands.




They've been around for a little over 4 years, which is young in the fitness equipment world.





However, what most people don't know is that the company was actually started by the former CEO of the popular SmoothFitness.




So there's actually quite a bit of experience behind the brand.

Like Smooth, Yowza is focusing on building high quality machines that generate a lot of online buzz and positive user reviews.

Instead of spending tons of money on flashy ads and relying on large-chain store distribution, Yowza ships directly to the customer from their own factory at discount prices.

They currently sell 6 different elliptical models ranging from $999 up to $1999.

One of the most interesting things about these machines are the CardioCore arms (found on the Captiva, Pompano and Sanibel models). These give you a completely new way to train.

Instead of moving arm bars that go forward and back, like a standard elliptical trainer, these arm bars move side to side - kind of like a very heavy steering wheel.

This tones and works your core as well as your shoulders and back. It's a great way to trim your waist and burn even more calories.
You can watch a video below of how this works on the Captiva Elliptical:

The Captiva elliptical also comes with another unique twist - variable elliptical motion. You can choose from 15 different elliptical pathways - from a standard shorter elliptical motion to a long hurdling-type motion.

This is a great way to challenge yourself and avoid the exercise plateau that often comes with doing 1 repetitive motion over and over again.

Another thing we like about these crosstrainers are the pivoting footpedals. These follows and supports the motion of your ankle, reducing stress and giving you a more comfortable workout.
Yowza ellipticals also use a rollerless design. This has the added advantage of reducing noise - making these trainers very quiet. It also helps to reduce maintenance and cleaning on the machine.

All crosstrainers use a rear-drive design (where the flywheel is placed behind the pedals). Many people like this since it gives a more stable feel and puts inertia behind the user, propelling you forward to the next step.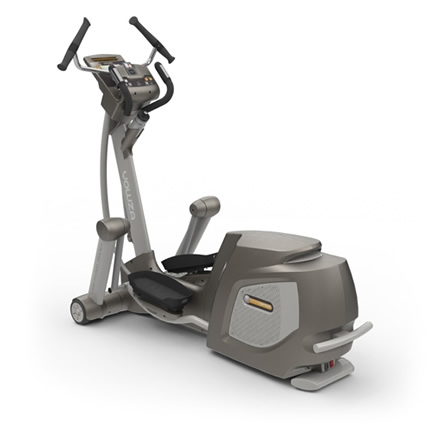 Since Yowza is not well known - and only sold through the manufacturer - they have taken steps to reassure their customers by offering an extra-long 60 day money back guarantee.
You can also email or contact Yowza elliptical buyers located near you to ask their opinion on their crosstrainer, which is a very cool way of getting authentic natural customer reviews.


Which elliptical is best for you?
It depends on your budget, needs and preferences. For example the Largo is extra-compact, making it ideal for condos or apartments.

If you want a serious workout challenge and you're planning on heavy, frequent use of your machine, you may want to consider the Captiva with the 15 different elliptical motions, a 18 - 32" stride and the CardioCore arms.

How To Save:
Yowza often has coupons for our website visitors. Use this link (or the link below) and use the coupon at the top of the page to save money on your online purchase.

Click Here To Save on Yowza Ellipticals


Yowza Elliptical Reviews:
Price: $ 1999
Stride Length: 18 - 32"
Incline? Yes
Resistance Levels: 16
iPod Dock? Yes
User Weight Capacity: 400 lbs




Highlights:

The Yowza Captiva elliptical trainer has something completely different – the CardioCore upper body arm bars that move side to side (instead of forward and back), helping build your core and wittle your waist.

This is also an adjustable stride elliptical – in fact you get 15 different elliptical motions to choose from. So you can go from a standard 18" elliptical stride up to a 32" hurdling type motion. You can also store the information for up to 9 different users, making this elliptical great for multiple user families.
Click Here For More on the Captiva Elliptical Trainer

Price: $ 1499
Stride Length: 20"
Incline? Yes
Resistance Levels: 16
iPod Dock? Yes
User Weight Capacity: 330 lbs




Highlights:

Want to trim your waist as you workout? You can with the Yowza Pompano elliptical. It comes with Yowza's special CardioCore arms that move in a side to side direction (like a steering wheel motion) to work your core and wittle your waist.

You also get an attractive two-tiered console (handy for storing your iPod or mp3 player), a power incline and a 3 speed fan to keep you cool.

Click Here For More on the Pompano Elliptical

Price: $ 999
Stride Length: 20"
Incline? Yes
Resistance Levels: 16
iPod Dock? Yes
User Weight Capacity: 330 lbs




Highlights:

Yowza's most affordable crosstrainer, the Largo elliptical gives you a rollerless, rear-drive design which cuts down on noise and maintenance. There's also a bright, backlit Console with an iPod dock with hi-fidelity speakers to listen to your favorite workout tunes.

The pivoting foot pedals help to support your ankle through the elliptical motion and cuts stress on your hips, knees and ankles. And the 9 different user memory profiles make this a great choice for multiple user families.

Click Here For More on the Largo Elliptical Trainer

More Yowza Elliptical Reviews:
Review the Captiva to see how it works, what it gives you that other crosstrainers don't and how to save!

Review the Pompano elliptical with CardioCore arms to see how it works and if it's right for you.

Review the Largo Yowza elliptical - an affordable, compact model from Yowza, to see if it's the right choice for you.
---
Back To All Elliptical Machine Reviews