LifeFitness Elliptical Review
Are They Right For You?
Life Fitness ellipticals are a commercial brand of crosstrainer, often found in gyms and high end health clubs





The Life Fitness company actually started out over 30 years ago with the famous LifeCycle.





Since then they've branched out into everything from treadmills to weight equipment and ellipticals.





Life Fitness is actually a division of Brunswick Corporation who also own popular brands like Parabody and Hammer Strength .




What about the ellipticals themsevles? Well here's an overview of the strengths and weaknesses of this brand.

Strengths of Life Fitness Ellipticals:
One of the best things about these ellipticals that we've noticed is that they give a very smooth feeling ride. Many user reviews also agree with the smooth feel being one of the top things people loved about these trainers.

Many of the current models come with oversized foot pedals to accommodate all foot sizes.

Hand Grip and Wireless Heart Rate Monitoring

Most units give you both hand grip and wireless heart rate monitoring options so you can stay in your target fat burning zone. Many people prefer the wireless chest strap as they find it to be more accurate.
The consoles on these crosstrainers are beautiful - just what you'd expect for health club machines with dot matrix displays, backlit windows and even two-tiered consoles that can hold your book, magazine or iPod.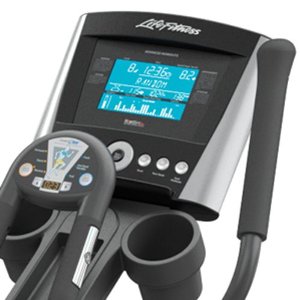 Weaknesses of Life Fitness Ellipticals:
Life Fitness crosstrainers are commercial machines - so you can expect to pay commercial prices. While the construction quality is excellent, the price point is a bit much for most buyers.

Perhaps realizing this, Life Fitness has come out with several home versions of their popular ellipticals, running around $2000 and up. However, when compared to similar ellipticals in that price range like Smooth for example, they fall a bit short (shorter warranty, no incline, no pivoting footpedals)

At this price range, it's a bit strange to find that they don't use pivoting footpedals to give you extra support.

While there are padded footpedals on certain models, many people like the extra support of moving (vs static) foot pedals.
Editor's Conclusion:
Life Fitness ellipticals are a commercial grade brand - with a smooth ride and high quality construction. They're also backed by a large company with years in the business.

However, they are expensive. And the more affordable 'home' versions don't really give you as much as other brands at the same price point.

If you do decide to buy a Life Fitness elliptical machine, you can usually get some great discounts online here. Or for similar options, check out the Sole, Smooth and Yowza brands.


---
Back To Elliptical Brand Reviews