Livestrong LS10.0e Elliptical Review
Is It Right For You?

Price: $ 999.99
Stride Length: 20"
Incline? Yes
Resistance Levels: 20
iPod Dock? Yes
User Weight Capacity: 325 lbs




Highlights:

Built with closer foot pedals, a more upright design, the Livestrong LS10.0e Elliptical trainer is more ergonomically correct and will give you a more comfortable elliptical workout. The power incline changes the slope of your elliptical pathway with the touch of a button – great for crosstraining.

And with the Free USB device included you can track your workouts, compare them and even download new workouts to your machine from Lance Armstrong's conditioning coach.

Click Here For More on the Livestrong LS10.0E Elliptical Trainer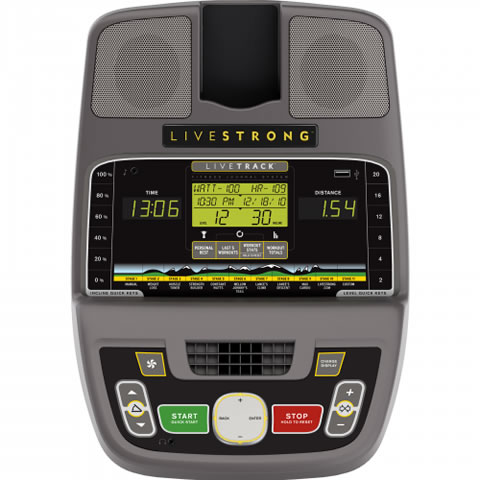 Our Review:

The Livestrong LS10.0e elliptical is the most popular elliptical in the Livestrong lineup. This is probably because it gives you some great value for under $1000 - a top price point for many buyers.
One of the best things about this model is that it is Six Star Certified. This is a certification from Livestrong that basically means the machine is built to certain ergonomic standards that give you a more comfortable ride.
For example, the pedals on this elliptical are placed closer together, which feels more natural (less strain on the hips) for most people. There's also a lower step-on height which makes the machine easier to get on and go.

You also get a more upright design which, again, many people feel more comfortable with. Basically your body is positioned in the most comfortable, ergonomically correct position for working out.

In addition to the proper ergonomic design, the Livestrong ls10.0e elliptical also comes with Livestrong Interactive technology. This is a fancy term to say you get a Free USB port that records your workout data and then will upload it to the Livestrong website for you.

From there you can track your workout progress, set new goals and compare your recent workouts to past workouts. You can also get new workouts to download to your elliptical from Lance Armstrong's personal conditioning coach.
Another popular feature to change up your workouts is the power incline feature. This changes the slope of your elliptical with the touch of a button and helps you workout different lower body muscles.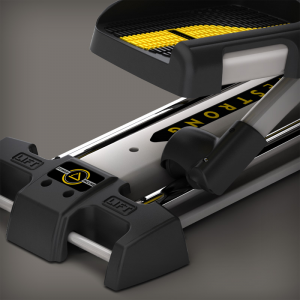 The console itself is average size but backlit and easy to read. There's also an iPod dock with built in speakers to listen to your favorite workout music.
Any drawbacks?

While this isn't really a drawback, the 10.0 model doesn't come with some of the bells and whistles as the higher end 13.0 elliptical - like the Archpedal that tones your glutes.
Still, at this price point, you can't really complain.

How To Save:
You can save on the Livestrong LS10.0e elliptical direct from the Manufacturer.

They are currently offering Free Shipping and inside delivery - which is often extra with most online sellers. It's also a lot more convenient to have them do it all for you.

Recommended For:

Budget Buyers
Those Looking For A More Comfortable Workout

Click Here To Save on the Livestrong 10.0 Elliptical
Video Review:
Click Here To Save on the Livestrong LS10.0e Elliptical

---
Back To Livestrong Elliptical Trainers