Livestrong LS8.0e Elliptical Review
Is It Right For You?
Price: $ 799.99
Stride Length: 20"
Incline? Yes
Resistance Levels: 16
iPod Dock? No
User Weight Capacity: 300 lbs




Highlights:

The Livestrong LS8.0e elliptical is the most affordable of the Livestrong models. It comes with a six-star certified ergonomic design for a more comfortable ride (i.e. closer foot pedals, a more upright design, lower step on height, etc.)

You also get a 5 position manual incline to help train different lower body muscle groups and a 23 lb flywheel to make your elliptical ride much smoother. A built in console fan will keep you cool and 9 built- in workouts add some challenge.

Click Here For More on the Livestrong 8.0E Elliptical Trainer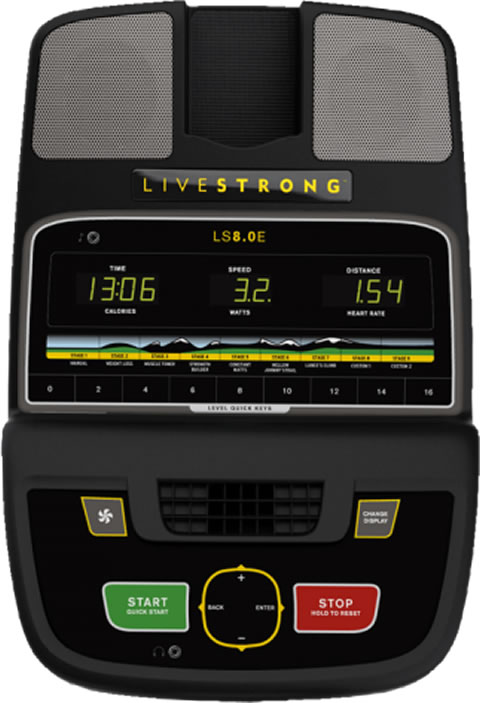 Our Review:
The Livestrong LS8.0e elliptical is the most economical elliptical in the Livestrong lineup. Livestrong trainers are known for their 6-star certification process.

This basically means that they are built to more ergonomically correct standards. For example the footpedals are placed closer together which reduces the strain on your hips.

You stand in a more upright position on this elliptical which, again, feels more natural. The armbars are properly positioned to the foot pedals and there's also a lower step on height.

Basically this elliptical is built to give you a more natural, comfortable feeling ride.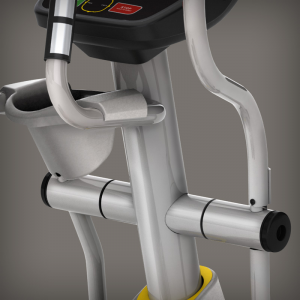 The Livestong ls8.0e elliptical also comes with a 5 position manual incline. Incline changed the slope of your elliptical path and many people like it because it gives you a better crosstraining workout.
You get 9 built-in workout programs with this machine to give you some workout challenges. Programs include Manual, Weight Loss, Muscle Toner, Strength Builder, Constant Watts, Mellow Johnny's Trail, Lance's Climb and Custom modes.
Another thing you get - which was a bit surprising - is a 23 pounds flywheel. The heavier the flywheel, the smoother the ride.

And 23 pounds at this price point is excellent - and hard to find. It helps gives you a smooth elliptical motion without the jerky stops and starts you sometimes get on cheaper machines.

Any drawbacks?
The console on the Livestrong ls8.0e elliptical is simpler than other Livestrong models and not backlit. Also you don't get the upgrades that the other models give you like the Free USB port and toning pedals.

How To Save:
You can get the Livestrong LS8.0e elliptical trainer direct from the Manufacturer. You can save on store markup and sales tax.

Plus, as of this writing, you can also get Free Shipping and inside delivery - which is usually extra with online sellers. So it's a really convenient way to go.

Recommended For:

Budget Buyers
Occasional Exercisers
People Who Want A More Natural, Comfortable Workout

Click Here To Save on the Livestrong LS8.0 Elliptical

Video Review:
Click Here To Save on the Livestrong LS8.0e Elliptical

---
Back to Livestrong Elliptical Trainers