Nordictrack Audiostrider 990 Elliptical Review
Is It Right For You?
Price: $ 999
Stride Length: 20 - 23"
Incline? Yes
Resistance Levels: 24
iPod Dock? Yes
User Weight Capacity: 350 lbs




Highlights:

A Consumer Magazine 'Best Buy' 4 years in a row, the 990 Pro elliptical from Nordictrack is both affordable and offers a range of impressive features. You get dynamic training with the 15 – 40 degree incline ramp (which also changes the stride from 20 – 23").

The iFit LIVE opens up a whole new world of training possibilities – from downloading new workouts by Jillian Michaels to mapping out new routes on Googlemaps. And with the 3-angle pedal adjustment, you can find the right elliptical feel for your body.

Click Here For More on the NordicTrack Audiostrider 990 Pro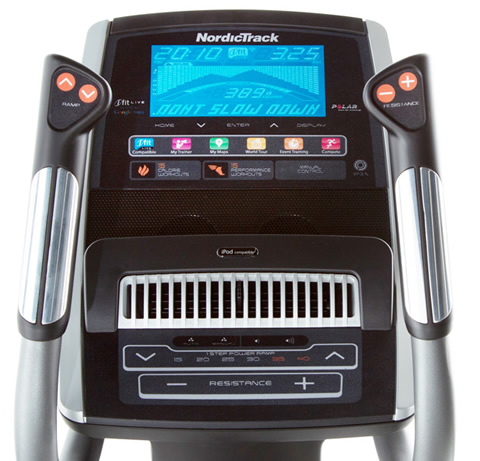 Our Review:
The Nordictrack Audiostrider 990 elliptical is unique - so popular it's been around for over 4 years now (with yearly updates). Nordictrack tends to come out with new models every year - so this gives you an idea of how popular it is.

In fact, it's been a certain consumer magazine "Best Buy" for 4 years in a row now. This is probably due to the fact that it's packs a lot of popular buyer features into a small price tag.

For example you get power incline of up to 40 degrees, which is higher than many of their other crosstrainer inclines. Incline changes the slope of the elliptical motion and can give you better crosstraining (and more calorie burning) overall.

There's also a 3-angle adjustment on the foot pedals. So you can choose the right toe-heel angle for your body, which further helps you customize your workout to be more comfortable for you.
The Nordictrack Audiostrider 990 elliptical also comes iFit LIVE compatible. With this feature you can connect your elliptical to the Internet using the wireless in your home. From there you can download new workouts, track your fitness progress over time and map out new routes using Googlemaps.

You can so so much with iFit that you'll basically never get bored with your crosstrainer.

The stride length on this elliptical is advertised as 20 - 23" which is a generous stride (a longer stride helps you fully work your leg muscles for a more comprehensive workout).

However be aware that you change the stride length by changing the incline settings (it's not an adjustable stride length as many people think of it.)

Another nice touch about this model are the touch controls on the moving armbars. You can change your resistance or incline on the fly without having to stop working your arms - which is very convenient.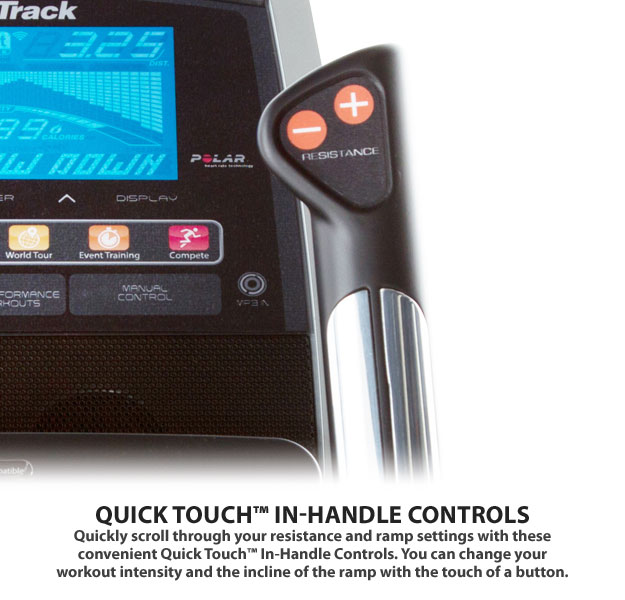 Are there any drawbacks?

Be aware that the iFit LIVE module is extra on this machine. And if you don't have wireless internet in your home, you won't be able to use it. (However you do still get 30 built-in workouts on this model to challenge you as well.)

How To Save:
You can get the Nordictrack Audiostrider 990 elliptical direct from the Manufacturer where you can also read the lastest user reviews. As of this writing you can save $500 and get Free Shipping to your home.
Click Here To Save on the Nordictrack Audiostrider 990

Recommended For:

Budget Buyers
Regular Exercisers
Users of All Heights

Video Review:
Click Here To Save on the Nordictrack Audiostrider 990


---
Back to Nordic Track Ellipticals