Smooth Agile DMT X2 Review
Is It Right For You?
Price: $ 1899
Stride Length: 18 - 21"
Incline? No
Resistance Levels: 16
iPod Dock? Yes
User Weight Capacity: 350 lbs




Highlights:
A more affordable version of their Classic Agile Trainer, the DMT X2 still gives you 12 different elliptical motions to choose from. Recruiting more lower body muscle groups can help you burn more calories and see results faster. And with the infrared sensor controls on the handlebars you can easily change your resistance or the elliptical motion without interrupting your workouts.

It also adds on an iPod dock with speakers so you can listen to your favorite tunes and the 3 speed console fan is a great way to stay cool.
Click Here For More on the Smooth Agile DMT X2 Elliptical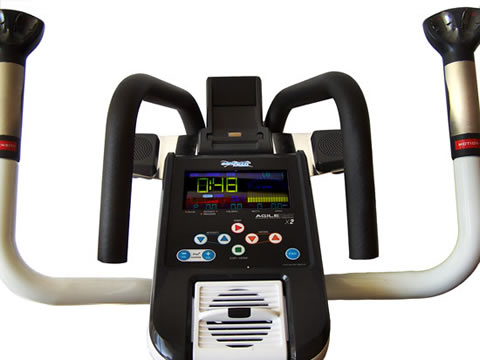 Our Review:
The Smooth Agile DMT X2 trainer is the scaled-down, more affordable version of the classic Smooth Agile trainer. You still get 12 different elliptical motions from a standard elliptical pathway to a more intense extended range of motion.


But you don't get as long a stride (up to 24" on the classic DMT vs 21" on the X2).

The benefit to having the different elliptical motions is that you are recruiting more muscle groups than with a regular elliptical. Your body doesn't adapt to working the same motion over and over - which means you can get a more effective workout and even burn more calories.

Plus, unlike cheaper ellipticals, the Agile DMT X2 keeps your toes in front of your knees throughout the motion, which cuts down on knee strain. It's also great for those with bad knees or those who are prone to injury.
Another thing that makes this elliptical so comfortable is the pivoting, articulating footpedals.
These support your ankle throughout the motion, reducing the stress on your ankles.




The DMT X2 also comes with thumb controls for both intensity and the elliptical motions.




So you can change these settings quickly from the moving arm bars without having to reach up to the console.
You also get the mySmooth Virtual Fitness trainer which tracks your workouts (and uploads them to the Smooth website). You can also set new goals and customize your workouts using this option.

Smooth has also added an iPod dock to the new models with speakers so you can play your favorite tunes as you workout.
The console, while smaller than the original DMT trainer, is still easy to read and backlit, with an integrated reading rack to hold your books, magazines or iPod.
Any drawbacks?
The Smooth Agile DMT X2 doesn't come with the longer stride motions of the full Agile DMT model (but you still get a decent 21" stride). It also comes with less intensity levels (16 vs 20) and a simpler console.

How To Save:
You can get the latest sale price on the Smooth Agile DMT X2 trainer direct from the Manufacturer here. You can also get Free Shipping and read the latest user reviews.

Recommended For:

Frequent Users
Families
Beginner To Experienced Exerciers
Users With Knee Problems

Click Here To Save on the Smooth Agile X2 DMT Trainer
Video Review:
Click Here To Save on the Smooth DMT X2 Agile Trainer


---
Back To Smooth Elliptical Reviews