Smooth Agile DMT Review
Is It Right For You?
Price: $ 2299
Stride Length: 19 -24"
Incline? No
Resistance Levels: 20
iPod Dock? No
User Weight Capacity: 400 lbs




Highlights:
The Smooth Agile DMT Trainer gives you 12 different elliptical motions to choose from. Designed to keep your toes behind your knees as you workout the DMT is also ideal for people with knee problems. The articulating foot pedals follow the motion of your feet and reduce joint stress as you workout.

The Agile also comes with MySmooth Virtual Fitness Trainer where you can get customized workout programs, track your progress and set new fitness goals. And with the touch controls on the arm bars you can change your elliptical motion pathway without ever stopping your workout.

Click Here For More on the Smooth Agile DMT Elliptical Trainer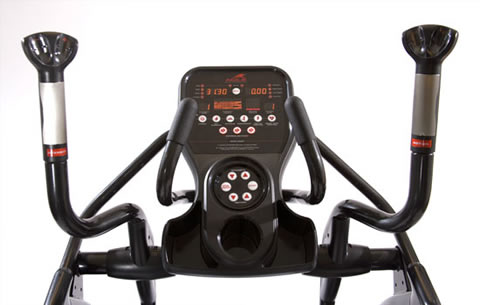 Our Review:
The Smooth Agile DMT elliptical is Smooth's top of the line model, with all the bells and whistles.

The best thing about this elliptical? The 12 different 'dynamic' motions you can choose from. You can go from a short, stair-climbing motion to a long cross-country skiing type of motion - and everything in between.

Changing the motion also changes the stride length (from 19 - 24") so no matter what your height is, you can find a stride the feels comfortable for you.

Another nice thing about this feature is that you can change the elliptical motion from the thumb controls on the moving arm bars. The hand grip heart rate sensors are on the moving arm bars as well.

So basically you can change your elliptical motion and/or resistance settings from the moving armbars without losing your heart rate feedback.
Overall, the machine itself is extremely heavy - with a whopping 400 lb weight capacity. It's built like a truck - and doesn't move when you pick up your pace on it. (Also keep in mind that while this is a good thing, it's not easy to move).

We also found the Smooth Agile DMT trainer was very quiet when we tried it. You can easily hear the TV or radio while on it without a problem.

A lot of users have also commented on how comfortable the motion feels. This is probably due to two things - the design and the articulating footpedals.

The design of this elliptical (unlike cheaper machines) keeps your toes in front of your knees while working out - which helps to reduce knee strain and injury.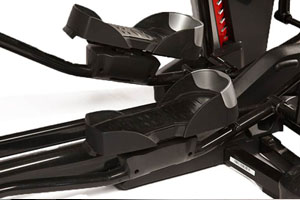 Plus, the foot pedals are articulating - meaning that unlike fixed pedals, these ones follow the motion of your ankle throughout the elliptical pathway, providing extra support.

On the fun side, there's an iPod docking station with speakers as well as a fan to help keep you cool.
The Smooth Agile DMT also supports the MySmooth Virtual Fitness Trainer. You get a USB drive that you plug into your elliptical and then upload to the Smooth website. From there you can track your stats, download new workouts and assess your fitness levels.

Any drawbacks?

As stated above, this is a very heavy machine. So make sure you know exactly where you want it - so you don't have to move it a second time.

Also, while it's a small thing, the fan works very well, but we found it would have been nice to be adjustable to suit the users height.

How To Save:
You can get the latest version of the Smooth Agile DMT (with a newer, upgraded console) direct from the Manufacturer here. You can get Free Shipping and read the latest expert and user reviews as well.

Recommended For:

Beginners to Serious Athletes
Buyers Looking for Agile Trainers/Dynamic Motion
Multiple User Families
Users Of Any Height

Click Here To Save on the Smooth Agile Trainer

Video Review:
Click Here To Save on the Smooth Agile DMT Trainer


---
Back To Smooth Elliptical Reviews