Smooth CE 7.4 Elliptical Review
Is It Right For You?

Price: $ 1499
Stride Length: 21"
Incline? No
Resistance Levels: 16
iPod Dock? Yes
User Weight Capacity: 350 lbs




Highlights:

The Smooth CE 7.4 elliptical is so popular that Smooth has kept it around for years (with new updates every year). The ergonomic, pivoting foot pedals follow the motion of your foot and helps to reduce stress on your ankles and knees.

Smooth has also added in the MySmooth Virtual Fitness Trainer where you can create custom workout plans for your elliptical and track your fitness results. The rollerless design cuts down on noise and the heavier flywheel gives you a very smooth feeling ride without the jars and stops that you sometimes get with starter machines.

Click Here For More on the Smooth CE 7.4 Elliptical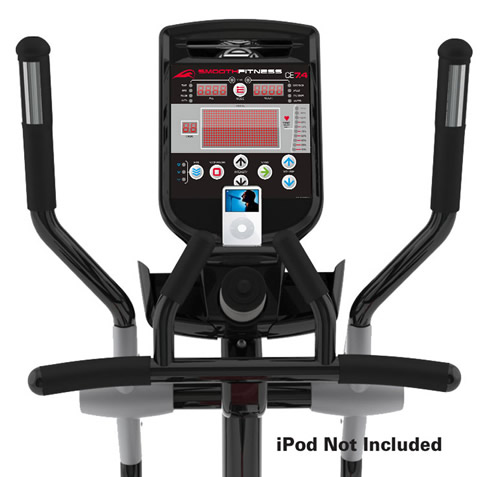 Our Review:
The Smooth CE 7.4 elliptical is one of Smooth's most popular trainers. So popular in fact that Smooth has kept it around (with yearly updates) for over 4 years now.

With an extra long 21" stride length, it's ideal for taller users or people who really like to pick up the pace. (A longer stride helps you more fully work your leg muscles and can help give you a more effective workout).

The construction on this unit is also excellent. It feels stable and solid, even when you work hard on it. It is a heavy machine (so be warned that you don't want to be moving this crosstrainer around to different rooms), which also helps to improve stability.

Plus, many people like a rear-flywheel design as they feel it gives more weight at the backend - improving stability on the machine.

With the rollerless design, we also found that it runs very quiet as well. You can easily watch TV or listen to music while you workout.

Smooth has added an iPod dock with console speakers to the 7.4 elliptical - which makes it easy to listen to your favorite tunes. There's also a built-in reading rack for your books, magazine or tablet.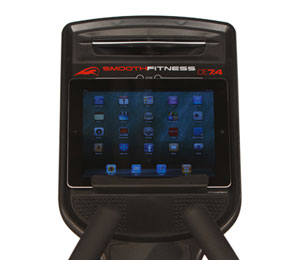 If you have knee or hip problems you may also want to consider this model. With the pivoting footpedals and ergonomic design it helps to support your heel through the elliptical motion and reduce stress on your joints.

The Smooth CE 7.4 elliptical also comes with the My Smooth Virtual Fitness Trainer. You get a USB drive included with your machine that you plug into the elliptical console.

It keeps track of your workout and then you can upload it to the Smooth website afterwards. From there you can plan out and customize new workouts, set fitness goals and get an overall picture of your fitness and health.

We also really like the console on this unit. It carries a bright LED dot-matrix display. You can get a scrolling message window and even see the dot-graph of where you are in your workout.

There's also a 3 speed, adjustable fan built into the console to keep you cool. While it's not the strongest fan out there, it's still decent.
Any drawbacks?

While this isn't necessarily a drawback, you should be aware that the 21" stride is pretty long - which is a good thing. However anyone under 5'2" may find it is a bit of a stretch.

And the water bottle holder is not great - our bottle kept falling off the console. So you may want to get a cheap wire bottle holder at your local Walmart for a few extra dollars if that really bothers you.
How To Save:
You can get the newest Smooth CE 7.4 elliptical model (with the upgraded console and iPod dock) direct from the Manufacturer. You can also, as of this writing, get Free Shipping and save on sales tax.

Recommended For:

Taller Users (Over 5'2")
Families
Beginner to Experienced Exercisers

Click Here To Save on the Smooth CE 7.4 Elliptical

Video Review:
Click Here To Save on the Smooth CE 7.4 Elliptical


---