Livestrong LS13.0e Elliptical Review
Is It Right For You?
Price: $ 1299.99
Stride Length: 20"
Incline? Yes
Resistance Levels: 20
iPod Dock? No
User Weight Capacity: 350 lbs




Highlights:

With a Maxtone Archpedal, the Livestrong LS13.0e elliptical offers something completely different. Similar to popular toning shoes, the curved pedal keeps lower body muscles constantly engaged, helping to tone your glutes.

The 13.0 crosstrainer also comes 6 star certified – which means it was built to be more ergonomically correct with closer foot pedals and a more upright design. You also get 20 levels of power incline to help work your lower body and a Free USB device to track your workout progress and download new workouts from the Livestrong site.

Click Here For More on the Livestrong LS13.0 Elliptical Trainer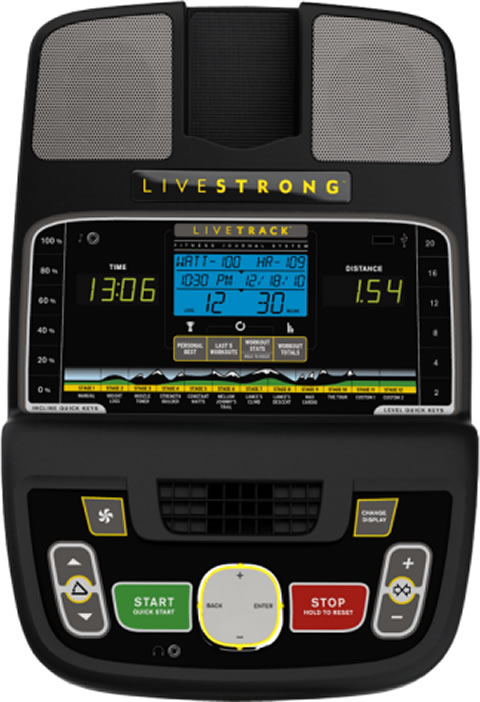 Our Review:
The Livestrong LS13.0e elliptical is Livestrong's top home model in their lineup - giving you a few extra bells and whistles you don't get with their starter models.

For example, it comes with the MaxTone Archpedal.
This pedal uses a design - similar to the one you find in toning running shoes. The pedal is curved to help keep you lower body muscles constantly activated. This helps to tone your glutes and leg muscles.
Another benefit is that it can help improve your posture, increase circulation and reduce stress on your knees and ankles.

It also has a bit more substance to it than starter models with a higher user weight capacity and longer warranty coverage. So it can basically take a bit more frequent exercise and hold up very well.

As with all their machines, the Livestrong ls13.0e elliptical is Six-Star Certified which means it was built to more closely mimic the way your body naturally moves when running.

So for example, the moving arm bars are at an ergonomically correct angle to your body. The footpedals are closer together, reducing the stress on your hips. And you stand more upright on the machine.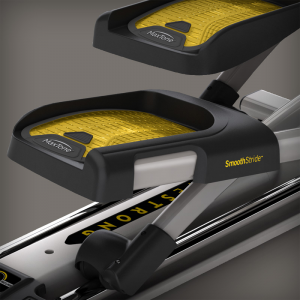 There's also a lower step-on height to this machine, which many people feel more comfortable with, especially if you're new to exercising.

You also get a Free USB port included with the Livestrong LS13.0e elliptical. You plug it into your console while you workout. It tracks and records your information.
You can then upload it to the Livestrong website and see your progress over time, set new fitness goals and compare your previous workouts. You can also download new workouts from Lance Armstrong's conditioning coach to add some new challenges.

Any great tool for crosstraining is the power incline. You can change the slope of your ellitpical motion path with the touch of a button from the console. This can help you change up your workout and avoid an exercise plateau.

Any drawbacks?

The price point on the Livestong LS13.0e elliptical may be a bit high for budget buyers. If you only plan on occasional workouts, you could probably save a bit and go with the LS10.0 model.

How To Save:
You can buy the Livestrong LS13.0e elliptical direct from the Online Manufacturer here.

You can save the store markup. Plus they are currently offering Free Shipping with inside delivery - which is often extra with other sellers.
Recommended For:
Toning and Scupting
Regular or Frequent Exercisers
People Who Want a More Comfortable, Ergonomically Correct Workout

Click Here To Save on the Livestrong 13.0 Elliptical

Video Review:
Click Here To Save on the Livestrong LS13.0e Elliptical


---
Back To Livestrong Elliptical Reviews