Elliptical Exercise Machines 101
Popular Terms You Should Know
Shopping for elliptical exercise machines?





You may be wondering about all the fancy terms being thrown about – incline, stride, variable motion, ramp...What do they mean?




It can be overwhelming when you first start to compare crosstrainers.




But don't worry - it's actually not that hard to figure out.

This page will give you a list of terms used on elliptical exercise machines – so you can know what exactly you're reading when going over the sales literature:

Elliptical Crosstrainer Terms:
Articulating Footpedals – These are hinged, moveable footpedals (vs fixed footpedals you often get on cheaper machines). They follow the ankle through the motion and give extra support to your ankles and knees.

Backlit Console – This is a console where the window is lit up from behind. This makes it easier to read your workout statistics, especially if lighting is poor in your workout area.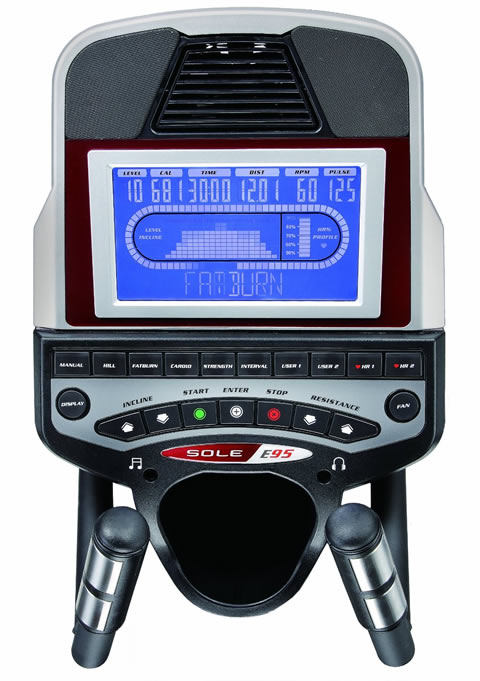 Dual Side Flywheel Design – This is a less common elliptical design where instead of 1 large flywheel in front or back of the pedals, you have two smaller flywheels on the sides of the pedals.

Flywheel – This is the drive mechanism behind the elliptical motion. You'll get different sizes and weights of flywheels. A general rule is that heavier flywheels give you a smoother motion without a lot of jumpy motions or skips.

Footprint – This is the length and width of the elliptical when in use. If the elliptical folds up, make sure you know the footprint when the machine is unfolded.
Front Drive – This is an elliptical design where there is one large flywheel set out in front of the pedals.





Some people prefer front drive as it gives you a more vertical, climbing elliptical motion.

Incline – This is also called 'ramp'. It is not the same as resistance. Incline changes the slope of the elliptical pathway. By doing this you work different groups of lower body muscles and get a better overall crosstraining workout.

Many people like to have incline on their elliptical exercise machines (although it's not a necessity by any means). Inline can be a power incline (where you change settings from the console) or manual (where you have to get off the machine to adjust the incline).

iPod Docks – This is fairly common with elliptical exercise machines now. Many are including ports and console speakers for your iPod or MP3 player so you can play your tunes while you workout.

Rear Drive – This is an elliptical design where there is one large flywheel in behind the pedals.




Some people prefer this design as it gives you a flatter, more horizontal elliptical motion (more like running).


Resistance – This is a measure of how hard your legs have to push during the elliptical motion.
Resistance gives you more of a challenge while you workout and can help you up your calorie burn or work intervals into your workout. Some people prefer lots of resistance levels because it gives them more room to grow.
Stride – Also referred to as 'stride length', this is basically the furthest distance between the pedals. Strides range from 13" all the way up to 23".

A longer stride is better because it helps to work your leg muscles more fully. It will also feel more comfortable – especially for taller users. A short stride may feel more 'jumpy' or more like a stair climbing motion. Most people prefer strides of 18 – 22"

User Weight Capacity – This is the top weight capacity the machine is recommended to take. However it's usually much higher than most users will ever be.

The key here is to know what these numbers mean. For example a 250 lb weight capacity may seem fine if you're 125 pounds – but it's actually a very poor weight capacity compared to many other ellipticals. It's one of the lowest weight capacities out there – so it may indicate a rather shakey, poor quality machine.

Variable Motion – This is also called 'dynamic motion' depending on the brand of elliptical that carries this feature.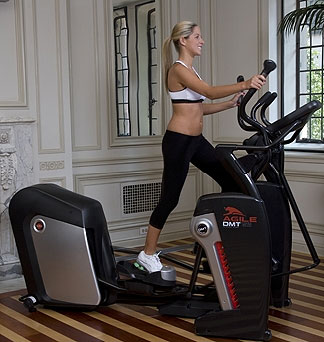 Basically this is a feature some elliptical exercise machines (like the Smooth DMT or the Yowza Captiva) have that change the shape of the elliptical motion (hence the term 'variable motion'). So you can choose a standard elliptical motion or an extra long hurdling motion or everything in between.
So those are some of the most popular terms when shopping for elliptical exercise machines. Now that you know what they mean, you can start reviewing different crosstrainers on the elliptical trainer reviews page.

Or for more tips on buying a crosstrainer and what to look for when shopping, see our elliptical tips page.

---